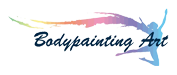 Phosphorescent / fluorescent Bodypainting
There is a particular technique of bodypainting that uses the phenomena of phosphorescence or fluorescence for his paintings.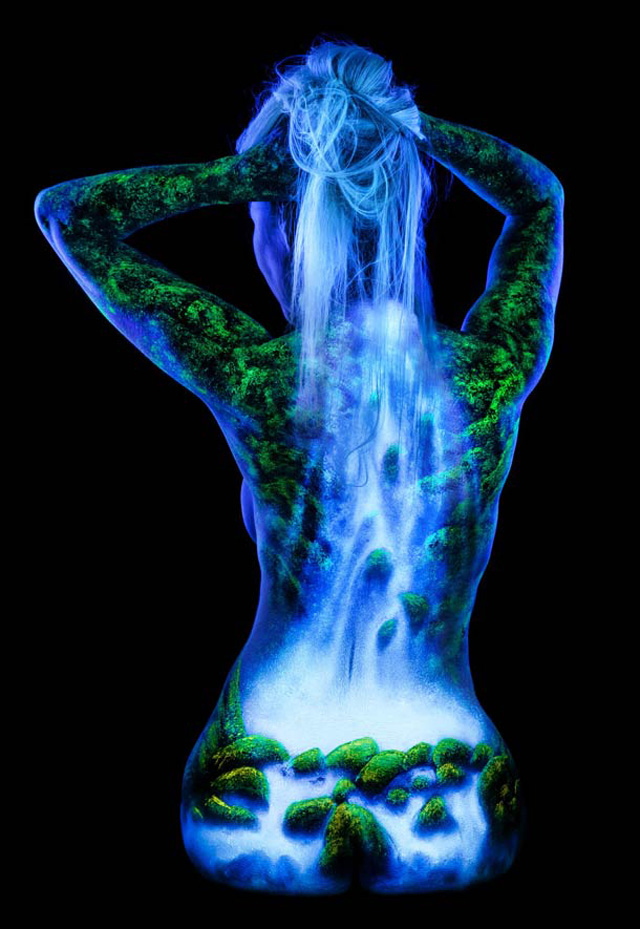 Fluorescent paints have the particularity to show a specific coloration under the UV effect of black light, for phosphorescent paints it appears when they are exposed for a moment in the light of day to shine in the darkness.

This makes it possible to create impressive phosphorescent / fluorescent effects that are revealed only in black light (a light that is widely used in night clubs or in the entertainment world) or in the dark.

These paints are specific and have a different texture (due to their special composition for the light effect) and their use requires some practice and / or training. They can be applied with a brush, a finger or an airbrush.

For fluorescent paints several approaches to create bodypaint are possible: one is to draw in the dark under the black light to see the bodypaint directly and the other with classic lighting by regularly inspecting the rendering under the black light.

John Poppleton is currently one of the undisputed masters of phosphorescent / fluorescent bodypaint, these landscape works on women's backs are famous around the world.


---
Back to top | Desktop Website | French Version

Home

Association and contact

Bellypainting

Gallery / artists

Facebook (in French)

Equipment and basic advice

Festivals, events : tips

Paints, brushes, sponges and cleaning agents

Zoom :
Allergy risks
Crayola color pencil
Phosphorescent / fluorescent Bodypainting
Cleaning and maintenance of the equipment
Drifting: nudity and sexy bodypainting
Electrically conductive paint

Zen Moment