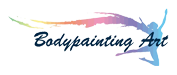 Risks of allergies related to Bodypainting
Necessity of the quality of body painting paintings
Summer is here and you will see the flowering of the stands / animations of facepainting on the tourist places.

What is valid for the Face Painting is obviously valid for the bodypainting and the paints used for the body painting must be of an irreproachable quality because they will be applied on the skin of the model or models and it is not necessary that a allergic reaction appears. It's for the comfort and especially the health of the models.

Indeed, an allergic reaction on the face of the model's body, face or throat can be dangerous. It is then necessary to choose good paints for bodypainting.


Advice to avoid allergies
The most important is to test on the the skin of the model before the creation of the bodypainting.

Of course we must avoid the so-called "festive" boxes (birthday, halloween, christmas, ...) which are often very poor quality paints or make-up which do not allow the skin to breathe properly under the artistic makeup.

Check the presence of the standard logo (eg CE) on the packaging or the allergen test reports. Don'thesitate to contact us for more information, or to consult us on the page dedicated to equipment.


---
Back to top | Desktop Website | French Version

Home

Association and contact

Bellypainting

Gallery / artists

Facebook (in French)

Equipment and basic advice

Festivals, events : tips

Paints, brushes, sponges and cleaning agents

Zoom :
Allergy risks
Crayola color pencil
Phosphorescent / fluorescent Bodypainting
Cleaning and maintenance of the equipment
Drifting: nudity and sexy bodypainting
Electrically conductive paint

Zen Moment